January 12th was the first outing with Nate Truman's "Star Car" car club (http://www.starcarcentral.com/), and it was a blast! It was an interesting cultural experience to stage in a Hooters parking lot and then spend all afternoon in the VIP section of a monster truck races, but everybody there really dug all of the cars! Charger Steve in San Diego (http://www.chargerstevesstarzcarz.com/), a one-man star car collection on his own, set up this event and the Monster Jam management liked us so much we were back 2 weeks later!

Here we are lining up under the big "A" before entering the pits:

All set up and in place, we had 13 movie cars without any doubles (I could have easily made it 15 by adding some other Herbies). Beat that, Barris. Apart from the 18 Herbies at the Herbie: Fully Loaded premiere, I've never seen such a large group of movie cars.

First in line (or last in line) was Nate Truman's 66' batmobile. Nate just took this fibreglass monster cross-country for the "Cannonball Run" without any windows, windshield wipers, A/C, or a functioning radiator!


Next up was Paul Nigh and Houston Courtney's amazing Back to the Future replica and all-around light show built by Dan Botkin at the Delorean Motor Center (http://deloreanmotorcenter.com/about_don.html). Paul has a site at www.myspace.com/timecar . Every crevice in this car has a neon tube or a flashing light, it's quite a signt after dark!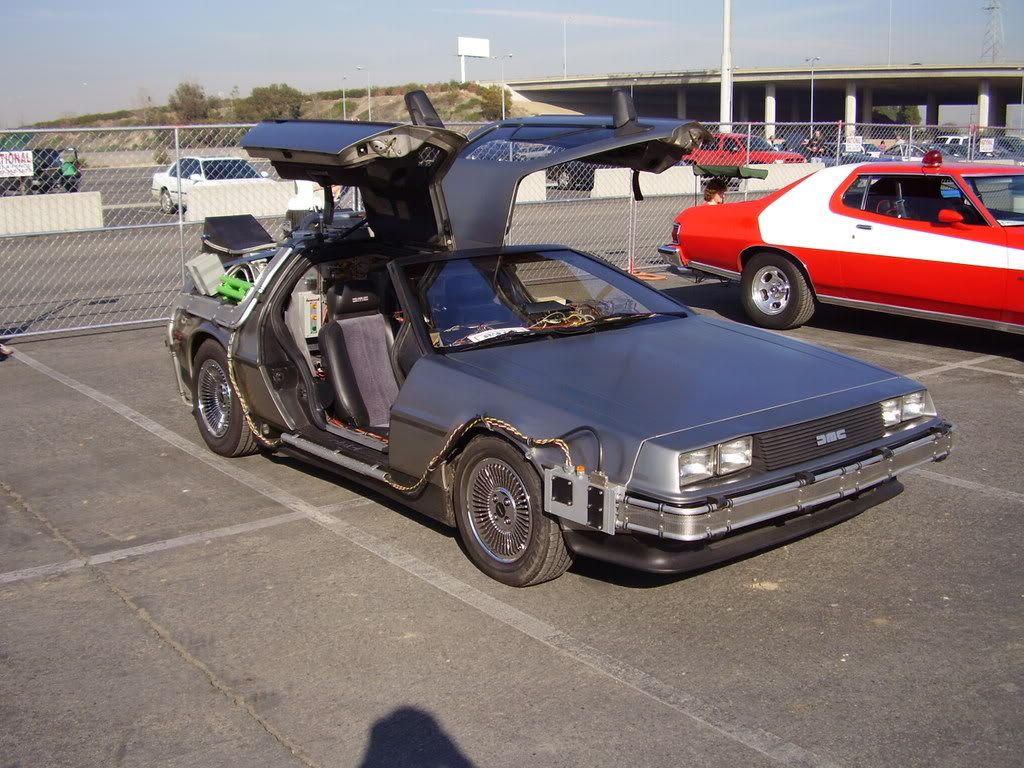 Lou Ciccari's Starsky + Hutch torino replica was detailed to a concours finish, and since Lou's in a wheelchair it's set up with an impressive linkage for all-hand controls.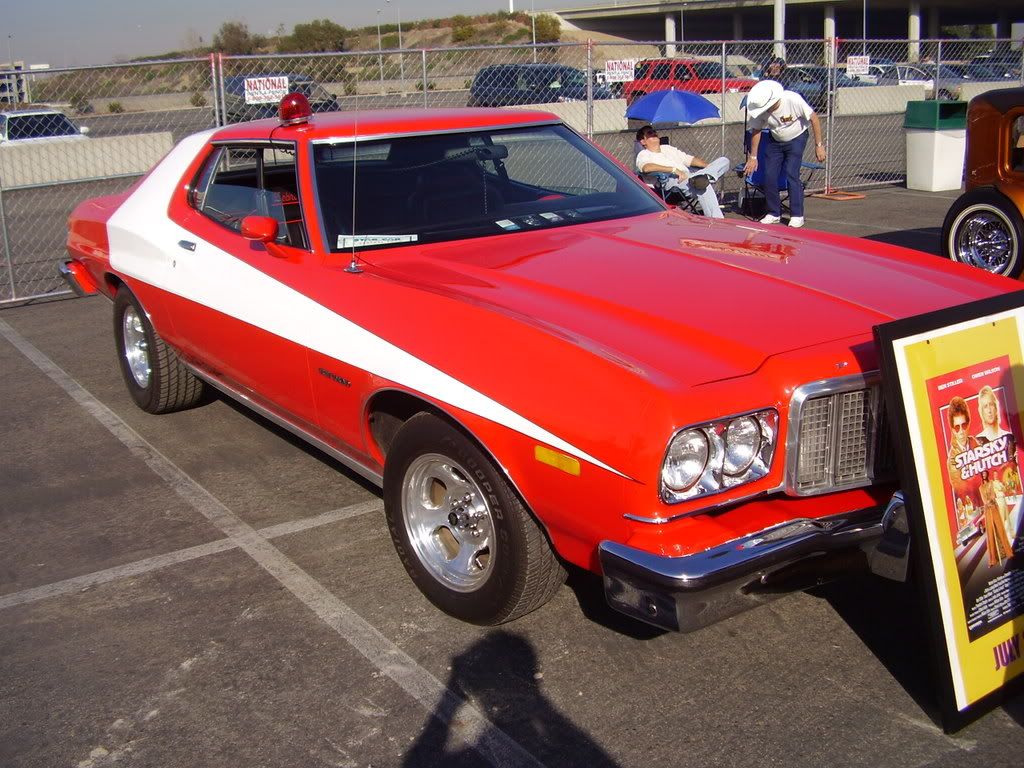 Chuck Schauwecker brought this incredible work of art called "Rod Riguez", which hasn't been in a film yet but has enough hot rod best-in-show trophies to put any of our cars to shame. Fun playing "spot-the-part" on this car, my favorites were the spiderweb fender supports made from chromed rebar.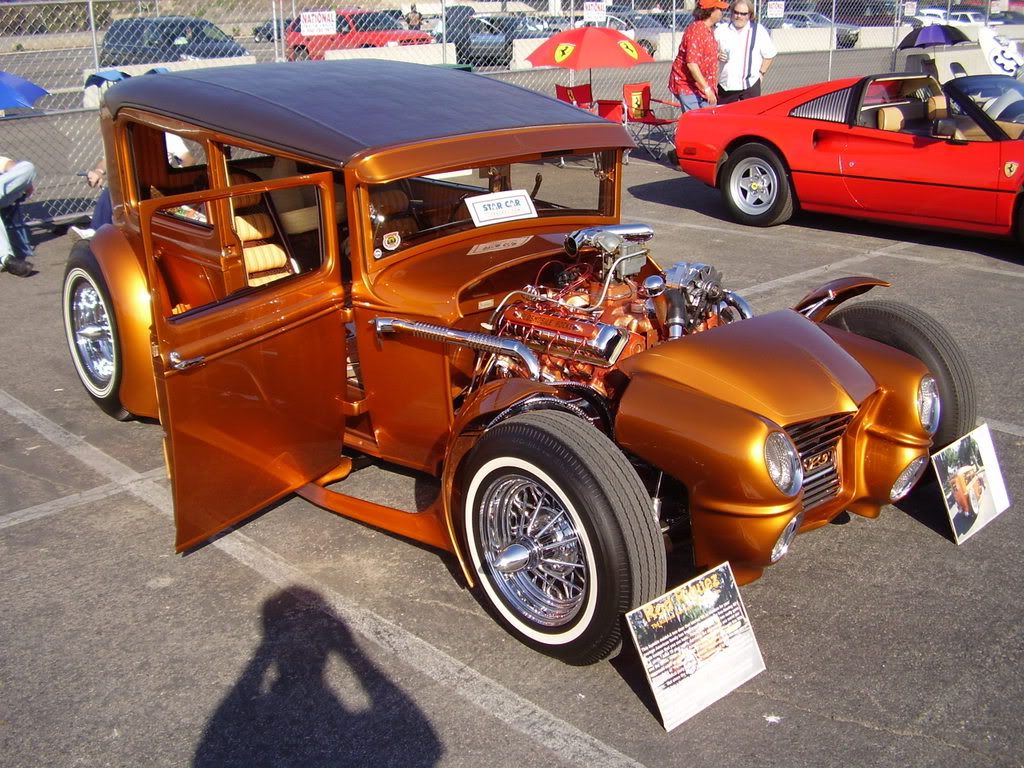 Oscar Verdugo brought a Magnum PI Ferrari, an actual Ferrari as opposed to the rebodied Fieros used on the show.

My buddy Jerry Cason's Herbie replica was in this group too. This car and the BTTF one were the stars of the show! Poor Jerry was pulling raucous kids off of his car about once every 5 minutes all afternoon!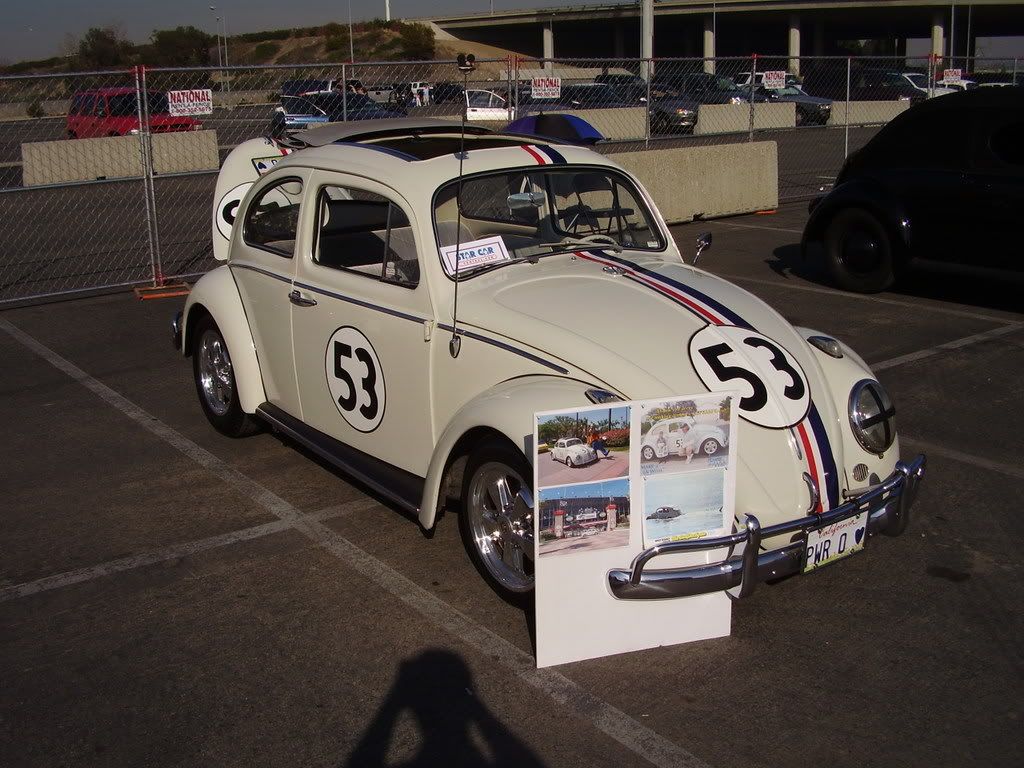 The bikers and VW guys all dug Horace, and the drive to Anaheim went just fine (at night was a little hairy though, the 6V lights are DIM!)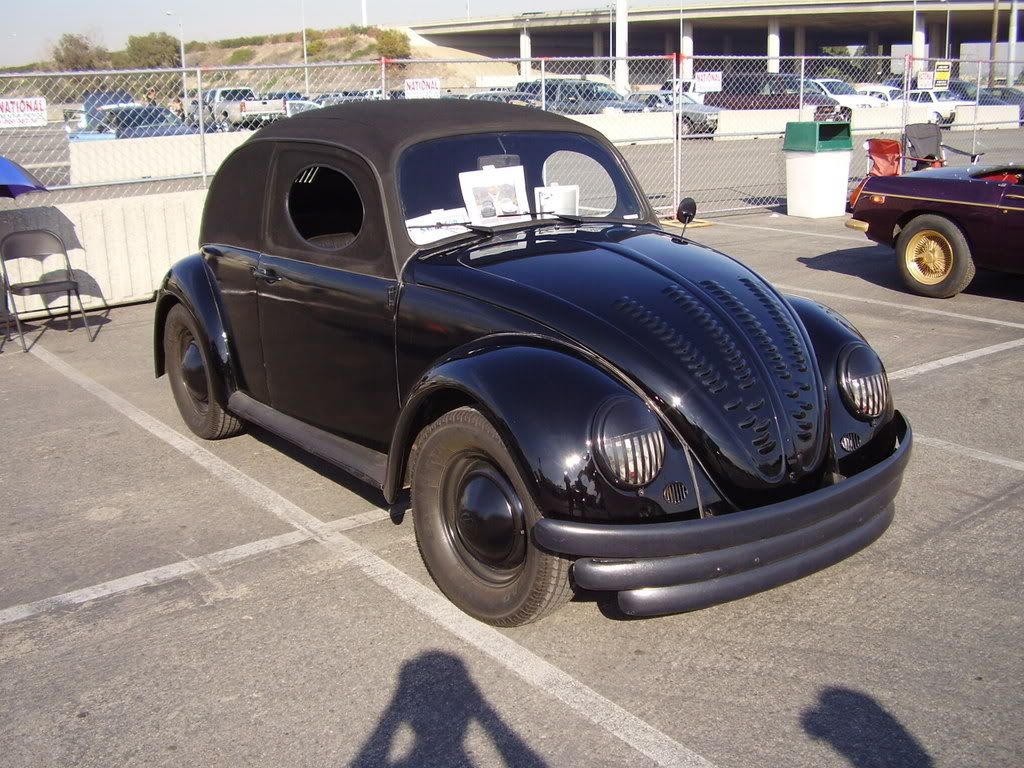 Charger Steve brought this beat-up MG used in the film "Norbit". I was surprised how many kids loved this movie and remembered the car, must be something about Eddie Murphy in a fat suit!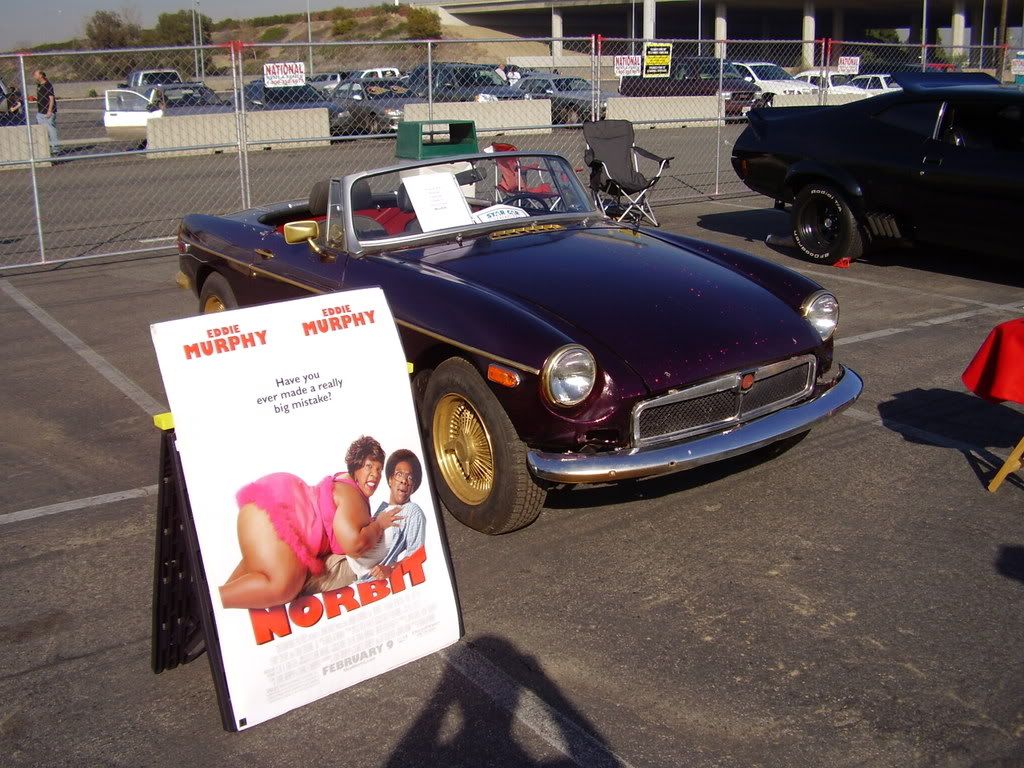 Indie director Paul Miller brought an evil-looking Mad Max Interceptor replica. Tons of fun, the "blower" can be turned on + off via a switch, a trick which the Australian crew had to resort to switching camera angles to accomplish in the film. Paul knows a thing or two about shooting car chases and car films, as you can see from his reel at http://www.paulcmiller.net/ .


Another one of Steve's, the original truck from the opening chase of the recent "Dukes of Hazzard" remake which also serves as Steve's tow vehicle! Love the bullet holes and production damage on this car.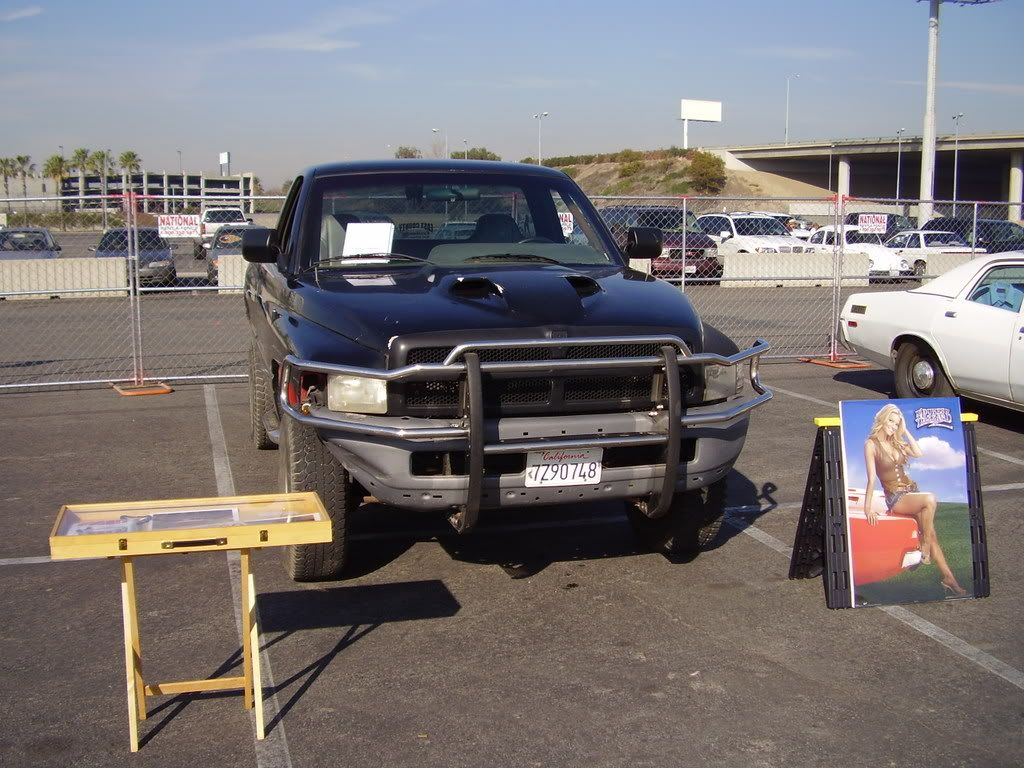 Steve also brought his replica of the Rosco PD car from the "Dukes" TV series.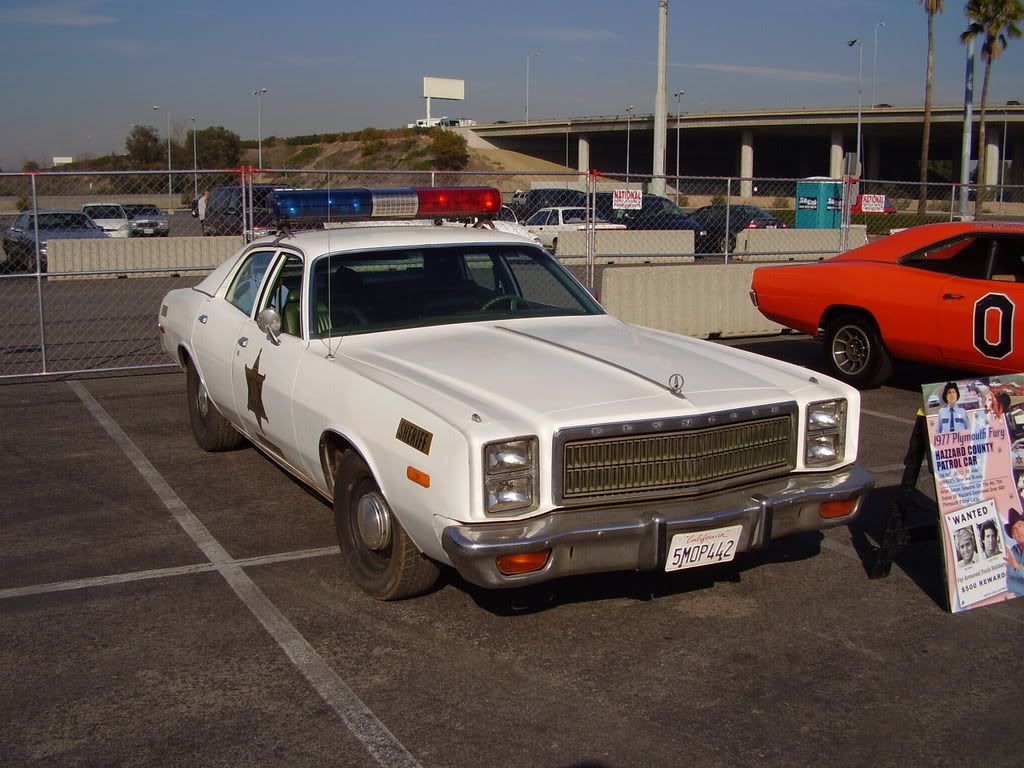 Bob Hartwig from Cinema Vehicle services (the guy who originally brokered my Horace car and its twin to private owners) brought this original General Lee from the Dukes TV series, which is the nicest looking original movie car I've ever seen! Bob looked like he had a blast powersliding this thing around the monster truck track when we were allowed to take a lap around.


All of the drivers except for Jerry. Left to right, Nate (Bat), Chuck (Hot Rod), Lou and his wife (Starsky), Paul (BTTF), Oscar (Magnum PI), half of Charger Steve (everything else), Bob (General Lee), yours truly, and Paul (Mad Max).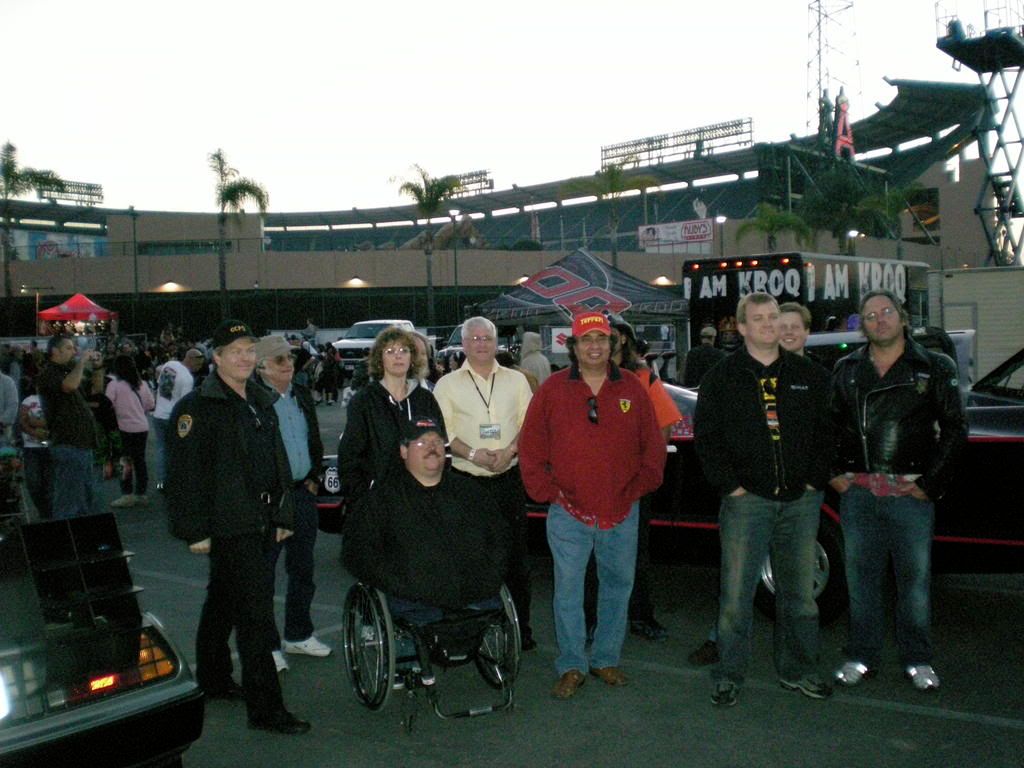 Before the show started Nate took a chance to mug up some shots with the Batman monster truck, who looked as star-struck with the 66 bat as Nate was with the monster truck! (Nate's wearing a cop costume because he noticed that it keeps people from climbing all over the batmobile at shows!)

Holy Convenient Plot Device, Batman! The dash of this thing is an Art Deco masterpiece.

All of the blinking lights on the BTTF car are hypnotic, you can't stop grinning.


Not Mel Gibson, but I loved the look of this monster too and couldn't stay away.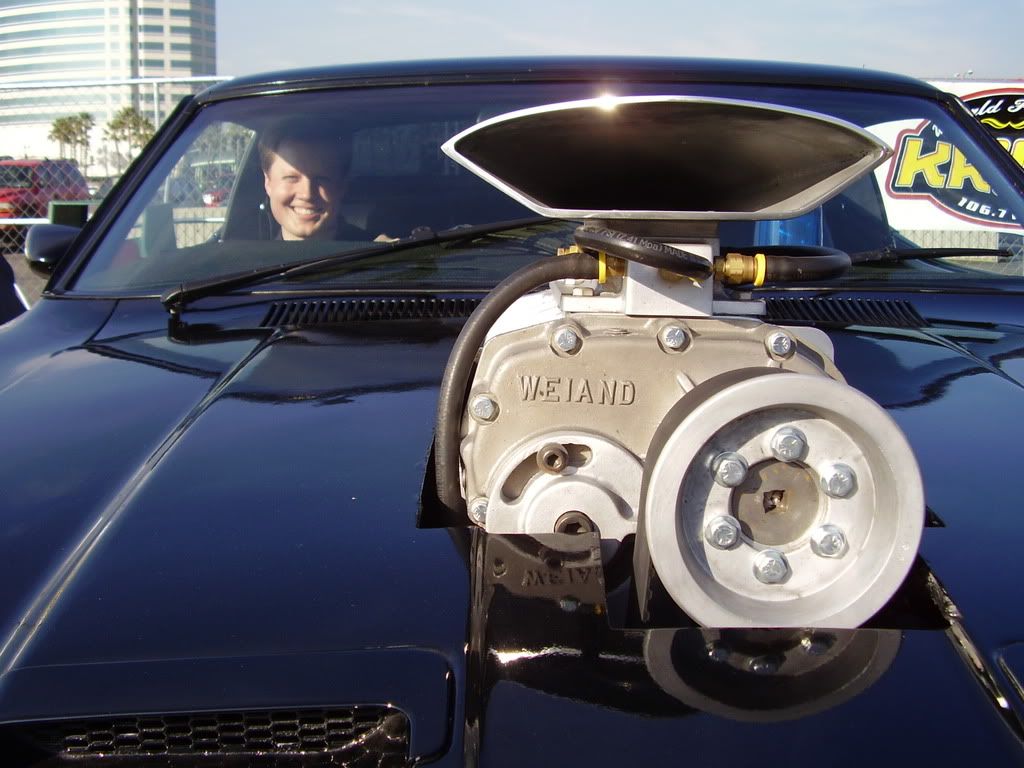 Crowds arrive!

The cars were mobbed! That huge mass of people on the other side of Horace are people lining up to take pictures of Jerry's Herbie!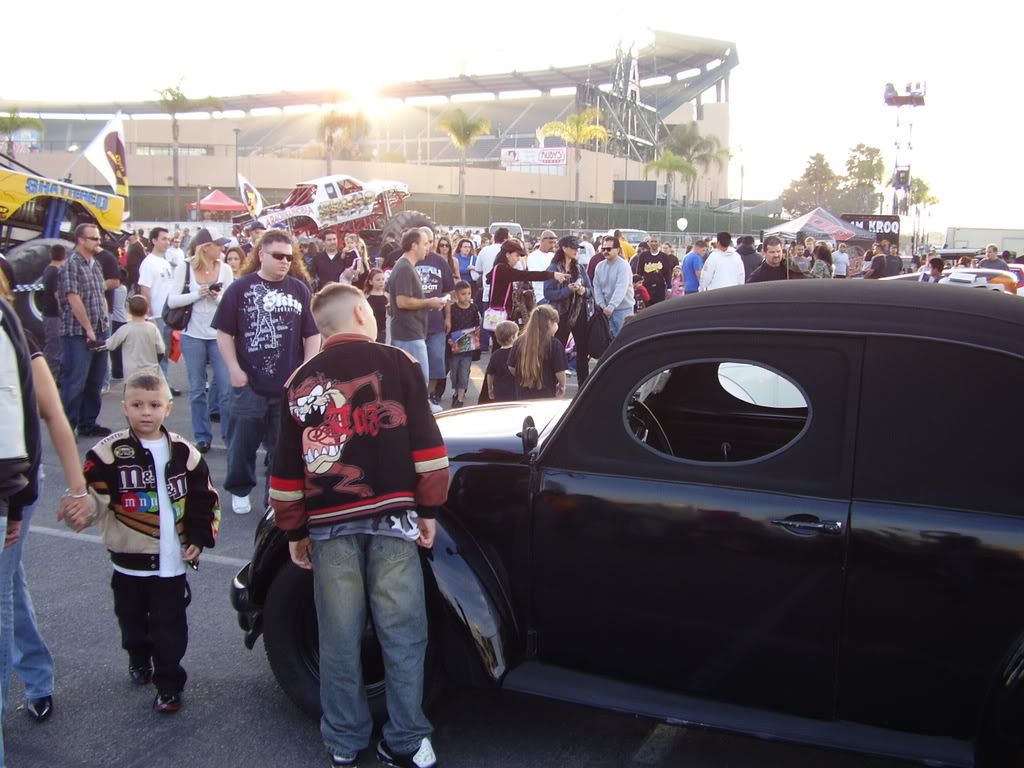 Preparing for our "victory lap" during the pre show...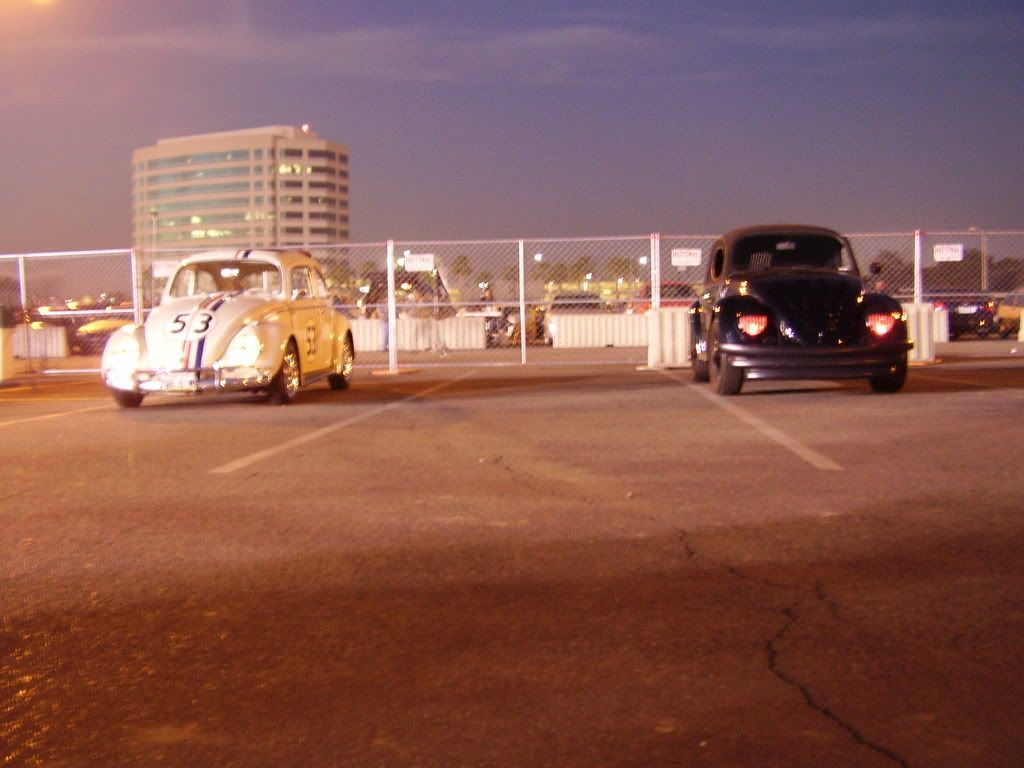 Around the track!